PURHO presents LINEAE MINI the new vase from the Collection INCISIONI by Federico Peri
A few months after the launch of Haute and Petite, Purho launches Linae Mini, a small-sized vase designed by Federico Peri to complete the Incisioni collection, which consists of table lights, accessories and vases of various sizes, the main feature of which lies in the engraving of the glass surface.
Linae Mini is no exception. Thick vertical lines, a rounded shape that softens the profile and a solid clear glass base that seems to let the colour float inside the vase, make this small piece of home furnishing an object of strong character.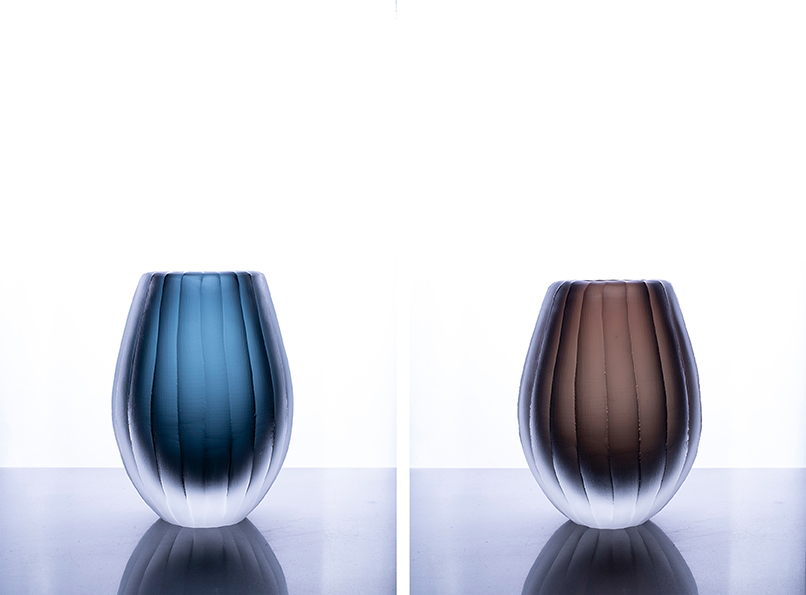 The Incisioni Collection
Pleats, soft colours and the unmistakable transparency of Murano glass characterised the Incisioni collection by Federico Peri for Purho Murano comprising vases, ashtrays, candle holders, candlesticks and two table lamps. Objects with minute dimensions whose material surfaces give unexpected textures and soft geometries merging contemporary shapes and colours to reinterpret the tradition of Murano glass gracefully.
Early in March 2020, the Incisioni collection made its appearance on the market with an initial series of products in which some of the characteristic elements of the Murano tradition have been reinterpreted and combined by Federico Peri to generate large murrina patterns. A detail present in all the objects in the collection but more evident in the Iride ashtrays when viewed from the above, yet evanescent when viewed from the front.
At the same time, thick submerged glass – engraved, pleated, taped or frosted – is the recurring theme on the Linae circular vases available in three sizes, in the Lume candelabra which takes the "mechanical" lines of gear-wheels and makes them into something special, or even in the Lumino candle holders in which Murano glass shares the scene with a small brass tray, both useful and formally capable of giving the right twist to the minimalism of the product. Talking about lamps, Haute designed as a rechargeable lamp (diameter 76 x height 133mm) and Petite with cable (diameter 60 x height 80mm) press forward with Peri's research around the theme of glass engraving. Banding, pleating, ribbed excavations cover the surfaces of these two lamps, softening their cylindrical shape — interrupted only by the bases in brushed aluminium — giving life to three different models: Silk characterized by delicate vertical banding culminating in the slightly concave upper surface, Doll composed of one smooth half and the other half crossed by a thick knurling, Stripe is covered in thick horizontal lines. Two sizes and three models, therefore, for a collection of gentle lamps with an unmistakable design made even more special by the three selected colours: crystal, smoke, rosé.